Follow the steps below to set up an account and start getting paid on your terms! Before signing up, make sure that:
You are receiving direct deposits regularly into a checking account. The app won't work with Savings or Prepaid accounts. 

You use an electronic timesheet, have a PDF/paper timesheet, work from home with a company email, or have a fixed work location. Check out our

timesheet requirements article

for more info.

Please note that we cannot accept handwritten timesheets
Create your Earnin account
Download and install the app from the 

Android Play Store or 

Apple App Store

Create your profile

Input your active phone number





Once done, the app will send you a code for the verification process.

     


Enter the verification code sent to your phone number and click on NEXT

.

If you did not receive the SMS, click on "RESEND CODE".

Enter your First and Last name then hit "NEXT"
Type in your active email address as your secondary info

It will serve as an alternative option for you to receive a verification code in case your linked phone number is not available (missing phone, change phone number, etc.)

 Add your desired password and make sure it meets the combination requirement. Click "NEXT".

     
Connect your bank account to the app
Connect to your bank by clicking on "CONTINUE"

Read the "ACH Authorization Agreement" and click the check box if you agree.




Select your bank that shows on the screen. If it wasn't there try to find it using the "search bar" then click "Enter"

If your bank doesn't show up on the list, that means that we don't support your bank in the meantime.

 






Type in the username and password you use to log into your bank's website then click "Submit".
Once your bank is successfully linked to Earnin, click "Continue"
Connect your debit card
Add your debit card linked to the checking account where you received your direct deposits.

By doing so you can take advantage of receiving your Cash Outs right away instead of waiting for 1 business day. 
If you wanted to know more about this feature click here.

Confirm your employer
Confirm your employer on this screen and a

dd your paycheck info

 

If you're having difficulties finding your employer, use the "search bar" located at the top part of the screen and enter your employer's name.

If it's not on the list, you can add it as a new employer.

Fill in the required information, select how your work hours are tracked, and then select your pay type.

Hourly Employees:

If you're paid hourly, we'll need to know how your hours are tracked. If you can view your timesheet online, select "Online". If you don't have access to your timesheet online, select Paper/Excel. 

For Ride/Task:

If you select Ride/Task, you can select how you get paid and you can click on next.

For Salary:

If your pay type is salary, you'll be asked to enter your fixed work location.




Confirm how we should track your earnings
Here are the options we use for us to add your earnings.

Once you have filled in the necessary information you will be directed to the "Cash Out" screen by clicking "CONTINUE".

           

Transfer out screen
On this screen, you will be able to choose your transfer amount from $0 to $100.

After scrolling the Transfer wheel and choosing your desired amount, click the "Transfer out" button.

This will direct you to the option tip screen where you can customize your current and future tips ranging from $0 to $13.




Edit transfer screen
Here the app will verify if the Cash Out amount and the tip you choose are correct.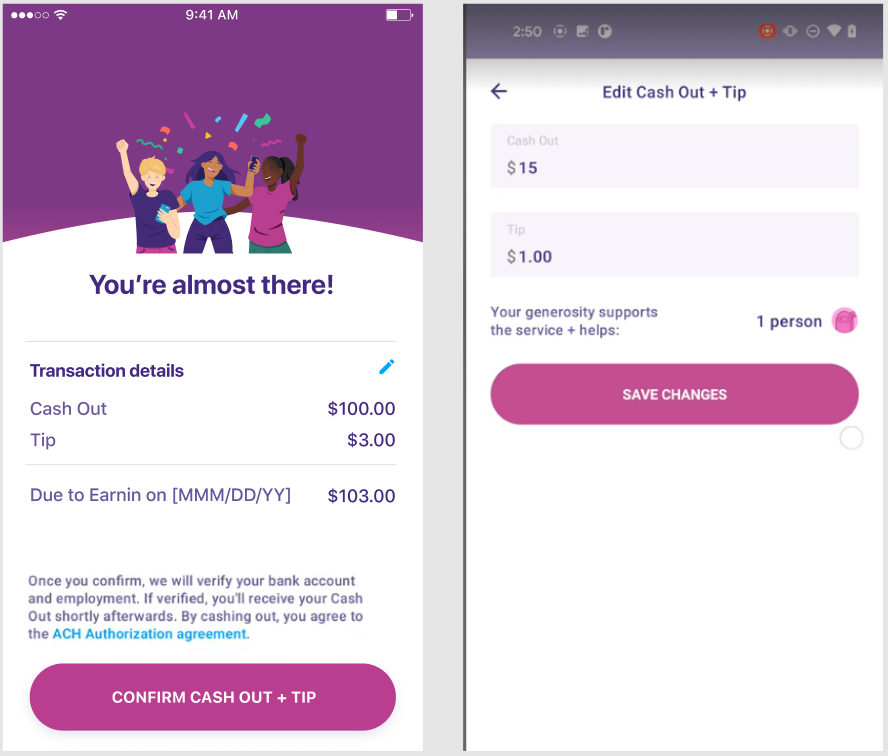 Create PIN Screen
Lastly, you will be led to this screen for you to create your pin for easy access to your account.

Left screen - iOS users
Right screen - Android users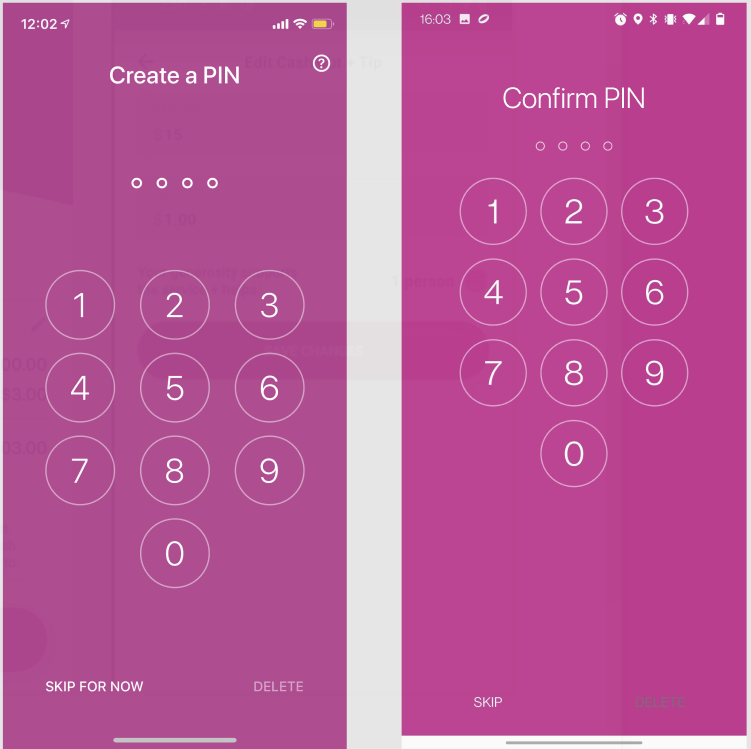 Congrats!
You've reached your home screen and you are now all set. Thank you for joining our community.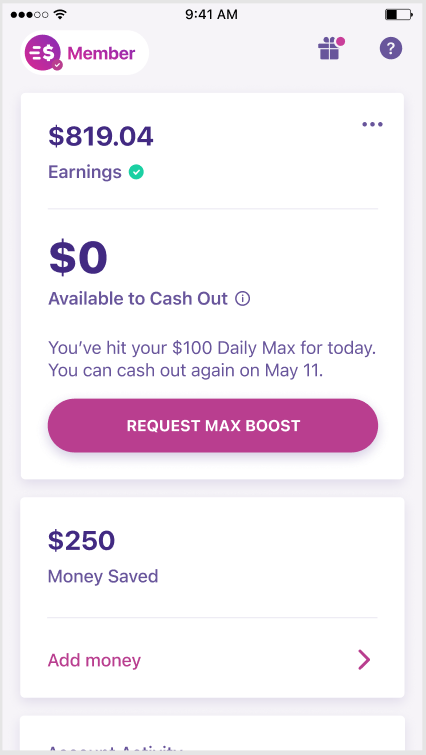 If you would like to learn more about how we collect and use this information, check out our Privacy Policy.